"Who do you think you are then – Barry Sheene?" – To be honest I think I probably did have visions of the then British World Champion somewhere in the back of my mind as the local bike cop pulled me over for a cursory glance at my bike and a friendly chat.
Riding a recently acquired but well used Suzuki GT250, the significance of Suzuki's racing heritage wasn't lost on this motorcycle racing mad teenager. Now more than thirty years on, it seems strange to think that back in the seventies any British 17 year old could throw an 'L' plate on the back of a 250cc motorbike with near 100mph capability and take to the street with little or no training. In fact, before the UK 'learner laws' were passed that is exactly what many of us did. Indeed, most of us couldn't wait to ditch the moped (pedals included) and move onwards and upwards to bigger, better (and faster) things.
In a class where the 2-stroke reigned supreme, Suzuki's GT250 always seemed somehow to play second fiddle to Yamaha's RD series. Never quite as sporty, never quite as sharp and 'edgy' in the handling department, the GT250 nontheless was still a revelation to a teenager whose total road bike experience so far had been gained on an FS1E. Mine was a 1975 GT250M in Aztec Gold, the last of the Ram Air models that began with the GT250K in 1972. At the time I was never really too sure what difference (if any) the Ram Air cowl atop the 247cc twin was supposed to make, but it looked great and that was all that really mattered. It might not have had quite as much 'street cred' as an RD, but something was obviously right about it as it topped the sales charts for the quarter litre class in the UK throughout much of the seventies.
Derived from the T250 (Suzuki Hustler in the USA), the GT250K introduced for the 1973 model year featured the same basic engine, but a revised chassis and new bodywork. Also added was a new hydraulic front disc brake and the aforementioned Ram Air duct intended to provide increased airflow through the cylinder head. With just over 30bhp on tap and a fairly smooth 6-speed gearbox to play with, the GT250 was good for well over 90mph. It was also very comfortable to ride with a well-padded seat (plenty of room for two if you'd passed your test-I hadn't!) and a well-designed handlebar layout with good instrumentation. It was also fairly economical to run (until you thrashed it!) and, despite some performance goodies fitted in later ownership, mine remained reliable to the end. Performance goodies? – A Stan Stephens Stage 1 tune and a pair of Allspeed expansion pipes did little to enhance rideability, but certainly gave my GT250M a little more urge and made it considerably less neighbour friendly!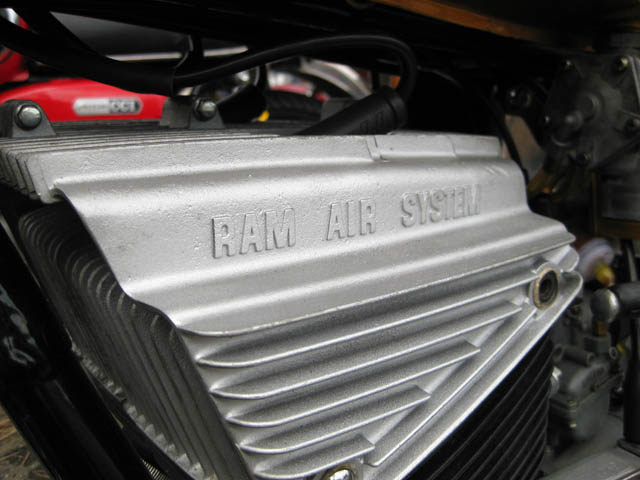 In 1976 the GT250 received a significant facelift with bodywork now sporting marginally smoother, more rounded lines and a slight power increase. The motor itself now featured a stronger four bearing crankshaft and the Ram Air cowl was gone, new and slightly taller head fins serving the same purpose. Four port scavenging replaced the earlier two port system and the gearbox had revised ratios for second and third gears. I admit to only having ridden a later GT250 (a 1976/77 GT250B version I think) once, but the bike felt a little quicker than my GT250M (when in standard tune), if slightly less smooth and refined.
By 1978, The Suzuki GT250 was looking long in the tooth and was replaced by a bike so radically different it may as well have been from another age. And in some ways it was. Suzuki's all-new X7 shared only the 54x54mm bore and stroke of its predecessors and was in all other respects a completely new motorcycle. Smaller, (much) lighter, significantly quicker and the sharpest handling bike in its class, the Suzuki X7 was a revelation to previous Suzuki GT250 owners.
Now, did anybody ever get pulled over on a Ducati to be asked if they thought they were Carl Fogarty?